Make learning memorable.
Learn concrete practices, strategies, and resources to lead dynamic and authentic Project Based Learning in Trevor Muir's PBL Master Class.
JOIN THE PBL MASTER CLASS
1
---


Learn how to plan standards-based & skills-rich Project Based Learning projects.
2
---


Confidently manage & facilitate a PBL classroom.
3
---


Empower students with purposeful & authentic work.
This asynchronous online course will walk you step-by-step on how to plan effective Project Based Learning projects in any classroom in any grade level.
SIGN UP NOW
Meet Your Instructor
Trevor is a teacher, author, and speaker. He is the author of the Project Based Learning books The Epic Classroom and The Collaborative Classroom. From leading PBL in middle school, high school, and college classrooms, Trevor has learned that one of the greatest motivators for strong student work and deeper learning is giving that learning purpose. When students know that their work is making a difference, engagement increases and lives transform. He also has learned that the same applies for the teacher, and leading Project Based Learning makes the work of the educator more purposeful as well.
After training thousands of teachers in PBL in countries around the world, Trevor has brought this researched-and-teacher-tested knowledge to an online course.

"
Project Based Learning really boils down to giving purpose to student work. This is why PBL is for every student, every teacher, in every classroom.


---
JOIN NOW
The PBL Master Class will transform your teaching.
PBL expert, Trevor Muir, takes you step by step in each of the 16 video lessons on how to plan, manage, and assess rich and engaging Project Based Learning. Teachers will finish the course not only inspired to incorporate PBL into their own classrooms, but prepared to do it right away.
This course covers:
The fundamentals of PBL
Project planning and brainstorming
Building inquiry and empowering students
Project management and leading successful collaboration
Making community connections
Assessment in PBL
Creating an authentic classroom setting
Building essential 21st century skills
Take the Course
All The Tools You Need To Plan and Lead a Thriving PBL Classroom
Digital copy of The Epic Classroom book

Resources to plan epic projects

Rubrics to assess student PBL work

Project management and collaboration tools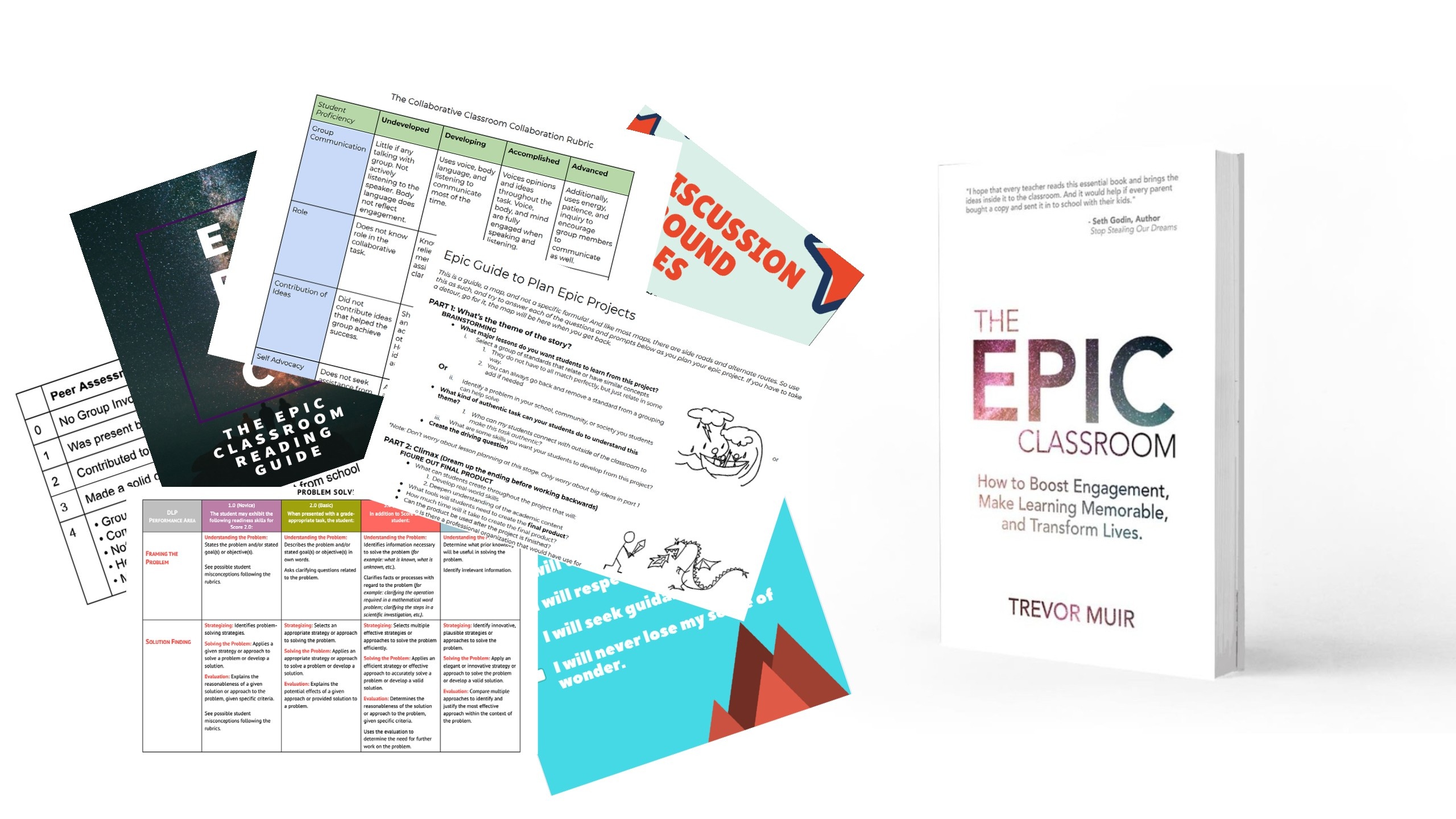 Here what others are saying about the PBL Masterclass.

"
My students are loving coming to class more than ever.

-Meghan Saenz

3rd grade teacher

"
Trevor's workshop got me fired up to try PBL. But also was so practical for my classroom.
-Kevin Bennett
10th grade teacher

"
My whole staff went through Trevor's workshop, and they are all now feeling confident about Project Based Learning.


-Jeannine Bird
Principal
What we're going to cover:
Module 1: The Fundamentals of Project Based Learning
This module is about defining the key components of a "Main Course" PBL project.
Module 2: Planning a PBL Project
This module is about learning best practices to come up with strong project ideas and planning successful PBL projects.
Module 3: Building Inquiry & Empowering Students
This module shares strategies to help promote and maintain inquiry while empowering students throughout a project.
Module 4: Project Management
From leading strong classroom collaboration to helping students create strong work that they're proud of, this module is all about managing and facilitating projects.
Module 5: Making Community Connections
Discover how to connect with different members of the community to increase authenticity in PBL projects.
Module 6: Assessment in PBL
Assessment in PBL is having a 'growth mindset' to help students develop their content knowledge and essential skills. This module is about how to do that.
Module 7: Creating an Authentic Classroom Setting
This module is all about designing a classroom setting that allows your PBL project stories to flourish.
Frequently Asked Questions
When does the course start and finish?
How will course materials be delivered?
Is there a school or district pricing option for the course?
Do you offer a money-back guarantee?